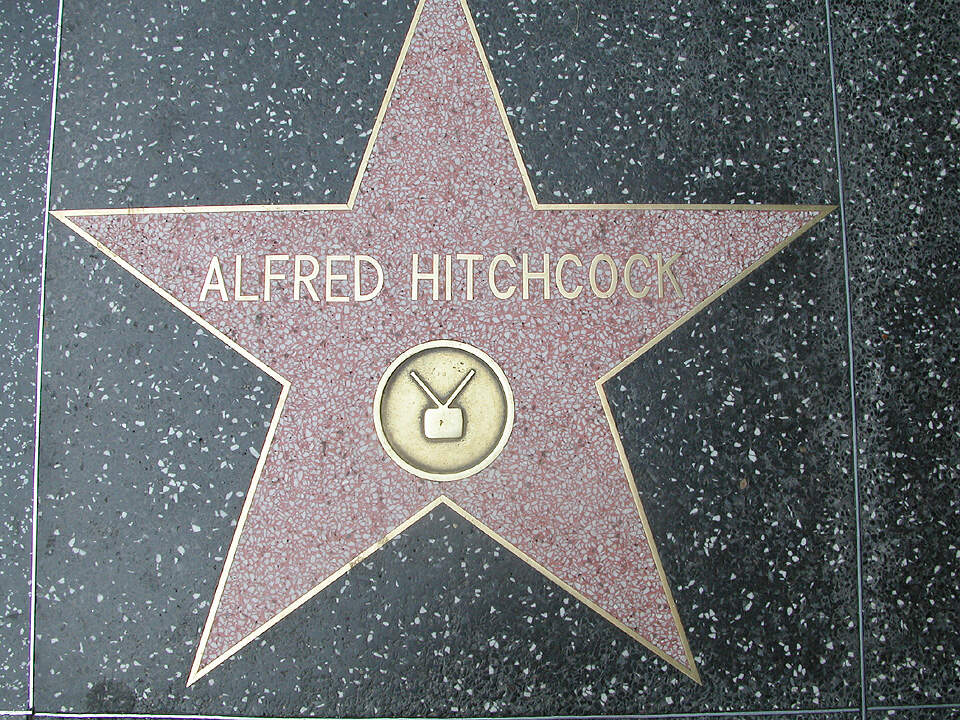 National Alfred Hitchcock Day
Known as the Master of Suspense, Alfred Hitchcock is celebrated each year on March 12. The day does not fall on Hitchcock's birth date or death date, and it is unclear why exactly it is celebrated when it is. Could it be because March 12 is the anniversary of the television broadcast of his American Film Institute Lifetime Achievement Award ceremony? Or is it possible that the March 1939 contract that brought him to Hollywood was signed on March 12? Newspapers did report the story of his contract on March 17. No matter what the reason, it is sure to be a day that will keep you on the edge of your seats.
Alfred Hitchcock was most known for making thrillers. He blended suspense, humor, and sex, and used many motifs and devices, such as the MacGuffin, to advance his intricate and spellbinding plots. His career is often divided into four periods: his silent period, his British period, his 1940s Hollywood period, and his most artistically fruitful period—taking place during the 1950s and early 1960s.
Alfred Hitchcock was born on August 13, 1899, in Leytonstone, England. He lived with his parents Emma and William and two older siblings, and grew up as an isolated and lonely child who suffered from obesity. He often experienced harsh punishment from his parents, something that later influenced his work, showing up in one of his recurring themes: a man wrongfully punished. Hitchcock studied engineering and afterward became a draftsman and designer at W.T. Henley's Telegraph Works Company. It was at this time when his interest in film began, and he started going to the cinema and reading US trade journals. His creative endeavors began at this time as well; he started publishing short stories for Henley's in-house magazine, the Henley Telegraph.
His film career started in 1920 when he began working as a title card illustrator on silent films at Paramount Pictures' Famous Players-Lasky studio in London, where he soon became head of the title department. There he learned the skills of scripting, editing, and art direction, and also met his future wife and collaborator, Alma Reville. They married in 1927, and had one daughter, Patricia, in 1928.
The first period of his directing career commenced in 1922 when he directed his first short film, Number 13. However, this film was left unfinished. His first feature film was The Pleasure Garden (1925). In 1927 he directed The Lodger, a breakthrough film that had elements that would often show up in his later works, namely an innocent protagonist wrongly accused and swept up in intrigue.
His first talkie was Blackmail (1929), which launched him into what is known as his British period. A noteworthy film of this period is The Man Who Knew Too Much (1934), which was both a commercial and critical hit. Many see The 39 Steps (1935) as his best work of this period. This is where he first introduced the MacGuffin—a device when characters focus on something, but the thing is not clearly defined for viewers. After the release of The Lady Vanishes (1938), Hollywood took notice, and the next period of his work was ushered in.
In March of 1939, Hitchcock signed a seven-year contract with producer David O. Selznick and soon arrived in Hollywood. His American debut was Rebecca (1940), starring Joan Fontaine and Laurence Olivier. It was nominated for 11 Academy Awards and won Best Picture. One of his most highly regarded films, Shadow of a Doubt, was released in 1943, and Lifeboat, released the following year, garnered him an Oscar nomination for Best Director. In 1945, he made Spellbound, a film about psychotherapy that marked the first of three films in which he collaborated with Ingrid Bergman. It also starred Gregory Peck, and Hitchcock was once again nominated for Best Director. Notorious (1946), starring Cary Grant, Ingrid Bergman, and Claude Raines, illuminated a more mature love story than previous Hitchcock works. His first color film was Rope (1948), a film that was also his first collaboration with James Stewart. It is also noteworthy for its several long shots that were edited together to appear as one long shot.
His fourth period is his most acclaimed and fruitful, and lasted from around 1950 into the early part of the following decade. It began with Strangers on a Train (1951), a commercially successful return to form after some misses in the late 1940s. It was followed by I Confess (1953), Dial M For Murder (1954), and the voyeuristic Rear Window (1954)—starring Grace Kelly and James Stewart.
In 1955, Hitchcock began working in the medium of television with Alfred Hitchcock Presents, a half-hour show which aired on CBS and NBC through 1965—its name was changed to the The Alfred Hitchcock Hour in 1962. Each episode was introduced by Hitchcock, and the show brought him further celebrity.
In 1956, he remade The Man Who Knew Too Much, with James Stewart and Doris Day playing the leads. Although not originally commercially or critically acclaimed, Vertigo (1958) is now seen as a masterpiece. It featured James Stewart in his final collaboration with Hitchcock. This was directly followed by one of Hitchcock's other true masterpieces, North By Northwest (1959), starring Cary Grant (in his last Hitchcock film) and Eva Marie Saint. It brims with action sequences, such as Grant getting chased by a crop duster, and Saint and Grant clinging to life on the faces of Mount Rushmore. It has suspense, a love story, a dramatic score, and inventive cinematography. It was followed by yet another one of Hitchcock's other greatest films, Psycho (1960), a controversial thriller heavy on sexuality and violence. In its most iconic scene, a naked Janet Leigh is stabbed to death in the shower, which created more shock than suspense upon its release. It is one of the most memorable scenes in cinematic history and was an influence on later slasher films. The culprit of Leigh's death was Norman Bates, a psychopathic killer who takes on the personality of his dead mother. Bates was played by Anthony Perkins. The last film of Hitchcock's golden period was The Birds (1963), a horror thriller with birds that attack and kill townspeople. It was both a critical and financial success that Hitchcock would not again achieve.
The Birds was followed by mediocre films and poor health. Hitchcock went back to England for Frenzy (1972), and his final film was Family Plot (1976). He then turned to his own health, and to that of his wife Alma, who had suffered a stroke. On March 9, 1979, he was awarded the American Film Institute's Lifetime Achievement Award. Later that same year he was knighted and became Sir Alfred Hitchcock. The Master of Suspense died on April 29, 1980, after suffering renal failure. He continues to be widely influential after his death, and there is still a great deal of interest in his work. Thus we celebrate him today.
How to Observe National Alfred Hitchcock Day
The day can be celebrated in many ways:
Sponsor
This event does not currently have a sponsor. If you'd like to increase visibility for this event while gaining exposure for yourself or your brand, you can
learn more here
!
Something Wrong or Missing?
We would love to hear from you! Please contact us using
this form
.
Observation Notifications
Would you like to be notified before the next observation?
Sign up here
to be told when notifications are available! You may also add this event directly to your calendar with
this link
.