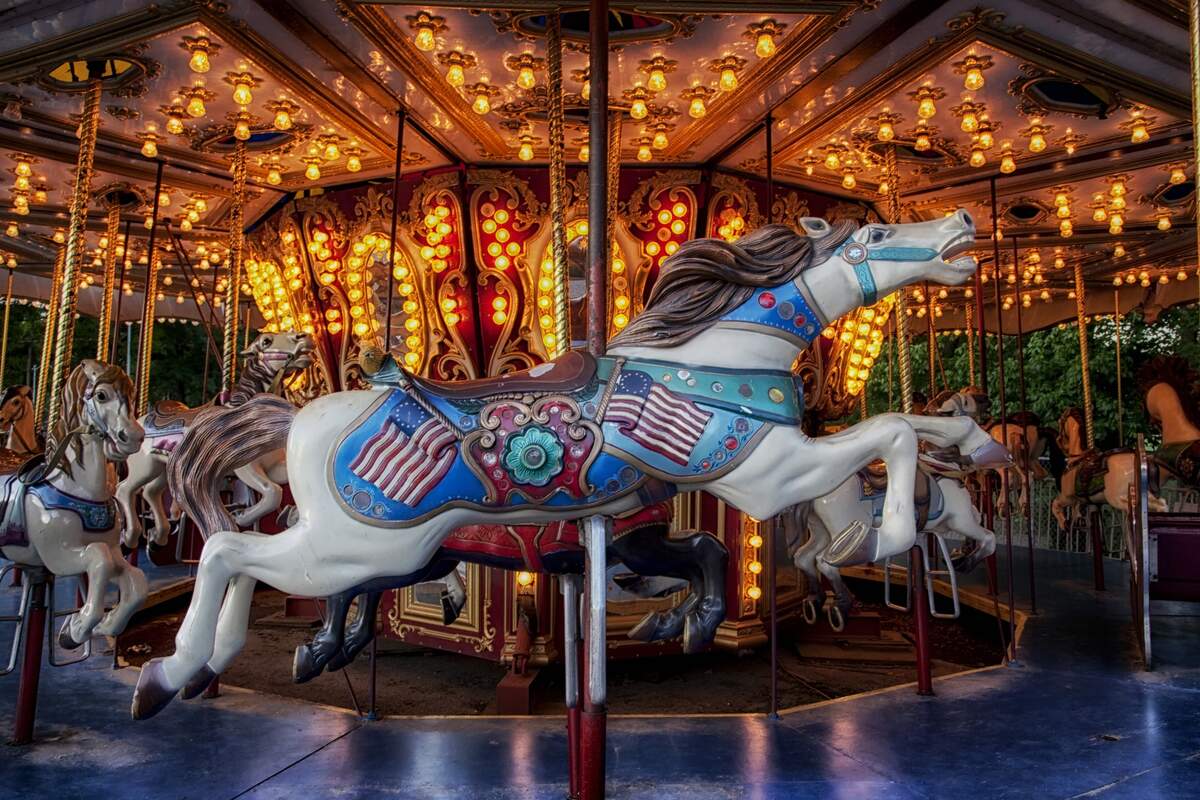 National Carousel Day
Also known as
Observed
Dates
Founded by
Hashtags
Sources
National Carousel Day, or National Merry-Go-Round Day, is celebrated at many carousels, particularly at antique wooden ones, and locations that house carousels, on the anniversary of the date that William Schneider of Davenport, Iowa—considered to be the inventor of the modern carousel—was issued a patent for his carousel. According to the day's organizers, Bette Largent, president of the National Carousel Association, and Rolald Hopkins, a carousel historian, the main objective of National Carousel Day "is to direct attention to the hundreds of historic carousels still bringing joy to riders."
Somewhere between 4,000 and 6,000 wooden carousels were carved between the 1870s and 1930—the "golden age of carousels"—and of them, only about 160 remain. The most prominent manufacturers of these handcrafted and hand-painted historic carousels were Looff, Dentzel, the Philadelphia Toboggan Company, Herschell, Illions, and Parker. The National Carousel Association keeps tabs on these carousels today, helping ensure their preservation by working with operators, mechanics, artists, and park owners.
Carousels are one of the world's oldest amusement rides. They have a platform that revolves around a stationary center pole. The platform has seats for riders, usually shaped like animals, most often like horses. The animals are mounted to poles and may be "standing figures," with at least three of their feet on the ground, "prancers," with their two front feet in the air, or "jumpers," with all four of their feet in the air. Jumpers are mounted to poles that move up and down. Circus music usually plays from band organs. Carousels are often called merry-go-rounds, although a "merry-go-round" may also refer to a smaller piece of playground equipment with a revolving platform. Carousels go by other names—often determined by where they are located in the world—such as jumper, galloper, roundabout, horseabout, "flying horses," and hurdy-gurdy.
The inspiration for carousels came from jousting and cavalry games of the twelfth century. Horsemen or knights rode in a circle and threw breakable balls of perfume to each other. These were exercises in preparation for real battles. The game was called "the little battle"—in Italian, this was "garosello" and in Spanish, it was "carosella." In the seventeenth century, it shifted to a game where horsemen speared and ripped off rings hanging overhead from poles. Popular in France and Italy, the game began being played by commoners. Eventually, simulations of these carousel games were made for children using small wooden horses.
In the eighteenth century, the wooden carousels grew bigger and spread around England and Central Europe. They were popular at fairgrounds and were operated manually, either by manpower or animals. The first ones had seats hung from chains. The seats were eventually shaped like animals, and by the nineteenth century, the carousels had a platform that rotated with animals and chariots on them. The steam-powered carousel was invented by Thomas Bradshaw in 1861 and was part of the Aylsham Fair in England. Frederick Savage began making carousels in 1870, and among other innovations, he invented the mechanism that makes carousel horses go up and down so they look like they are galloping.
Carousels traveled across the Atlantic Ocean and spread in popularity in the United States, ushering in the aforementioned golden age of carousels. The carousel manufacturers in the new country largely were immigrants too: Gustave Dentzel was from Germany, while the family of Charles W.F. Dare hailed from England. The carousel manufacturers of the golden age were known for specific styles. Charles I.D. Looff was known for the Coney Island style, which was exhibited by horses with elaborate saddles. The Philadelphia style, with realistic, painted saddles, was made by Dentzel and by the Philadelphia Toboggan Company. Allen Herschell and Edward Spillman of the Allan Herschell Company, Charles W. Parker, and Marcus Illions were known for the County Fair Style, which sometimes had no saddles.
The heydey of carousels ended during the Great Depression, but the rides rose in popularity again following it, although not to the height they once were. Carousels grew in size, electric motors replaced steam, and aluminum and fiberglass horses replaced wooden ones. But interest in the preservation and operation of the wooden carousels of the golden age grew, and attention is brought to these historic carousels today with National Carousel Day!
How to Observe National Carousel Day
Ride a carousel! Many carousels may be hosting events or celebrations today, or offering free rides. You could ride any type of carousel, but it's most appropriate to ride a historic wooden one. There are a number of antique and notable carousels or carousels listed on the National Register of Historic Places that you could visit. Some noteworthy carousels you could stop at are the Flying Horse Carousel in Watch Hill, Rhode Island; Flying Horses Carousel in Oak Bluffs, Massachusetts; the Highland Park Dentzel Carousel in Meridian, Mississippi; the House on the Rock Carousel at the House on the Rock in Spring Green, Wisconsin; Jane's Carousel in Brooklyn, New York; Kit Carson County Carousel in Burlington, Colorado; Over-the-Jumps Carousel in Little Rock, Arkansas; and the 1921 Dentzel Carousel at Glen Echo Park in Glen Echo, Maryland.
Another idea for celebrating the day is to visit a carousel museum such as the Kit Carson County Carousel Museum in Burlington, Colorado; the Herschell Carrousel Factory Museum in North Tonawanda, New York; the C.W. Parker Carousel Museum in Leavenworth, Kansas; the Merry-Go-Round Museum in Sandusky, Ohio; or The New England Carousel Museum in Bristol, Connecticut. You could join the National Carousel Association or make a plan to attend the next National Carousel Convention. Why not read a book about carousels such as The Great American Carousel: A Century of Master Craftsmanship or A Pictorial History of the Carousel? Operating a carousel or joining a preservation organization and helping preserve or restore a carousel in your community are other ways to celebrate!
Sponsor
This event does not currently have a sponsor. If you'd like to increase visibility for this event while gaining exposure for yourself or your brand, you can
learn more here
!
Something Wrong or Missing?
We would love to hear from you! Please contact us using
this form
.
Observation Notifications
Would you like to be notified before the next observation?
Sign up here
to be told when notifications are available! You may also add this event directly to your calendar with
this link
.