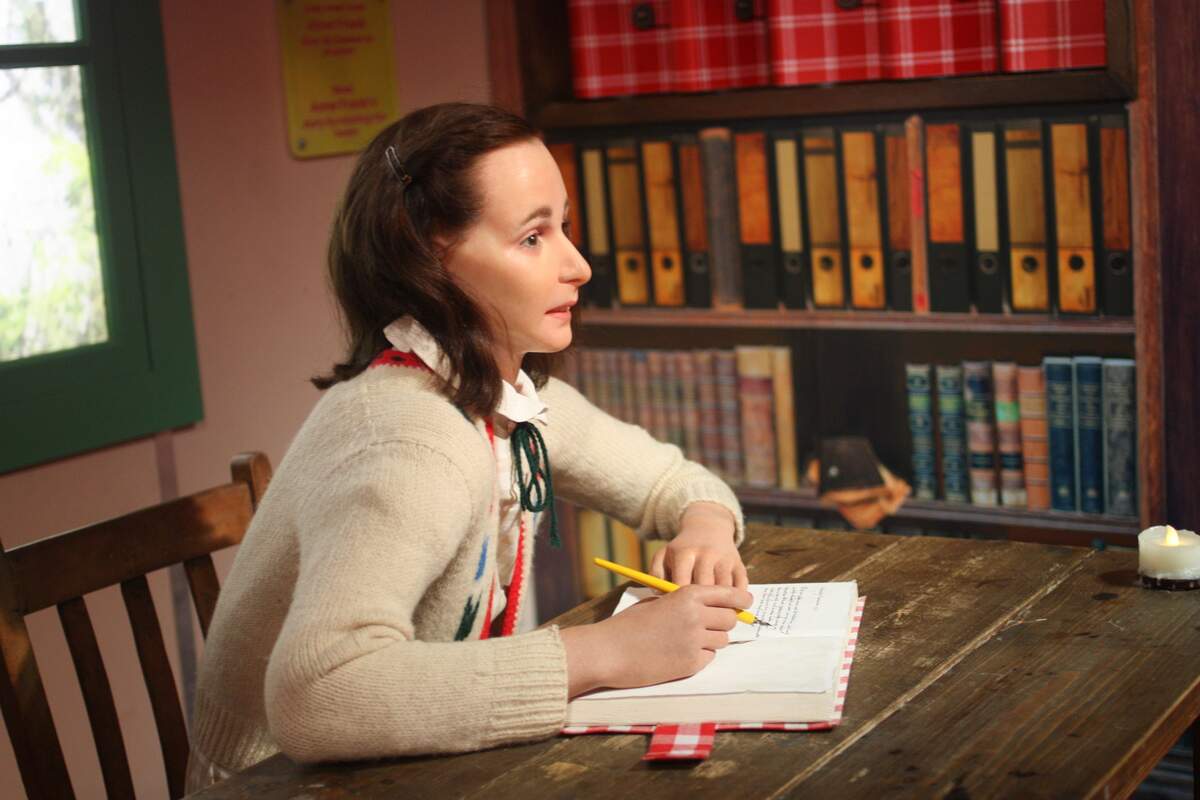 Anne and Samantha Day
Anne and Samantha Day, which takes place twice a year on the summer and winter solstices, is dedicated to Anne Frank and Samantha Smith. The day was created to put Anne and Samantha on a U.S. postage stamp, in order to honor them for the positive influence they have had on American schoolchildren in the twentieth and twenty-first centuries, and to acknowledge that while both girls faced difficult situations, they contributed to improving the world, by staying hopeful for peace between nations.
Many write to The Citizens' Stamp Advisory Committee on the day, urging them to consider putting the two girls on postage stamps. The current goal is to have the Samantha Smith stamp debut on June 29, 2022, on what would have been her fiftieth birthday, and to have the Anne Frank stamp debut on June 12, 2029, on what would have been her one-hundredth birthday. There are various criteria that must be met for a subject to be considered to be put on a postage stamp. The subject must be American or American-related, or must have had a "significant impact on American history, culture or environment." The subject also must have "widespread national appeal." Writers to the Committee must persuade them that Samantha and Anne meet these criteria. Smith has previously been honored on a stamp in the Soviet Union, and Frank has been honored on stamps in Germany, the Netherlands, and Israel.
Samantha Smith, who became known as "America's youngest goodwill ambassador," was born on June 29, 1972, and grew up in Manchester, Maine. She wrote to Soviet leader Yuri Andropov in November of 1982, asking him if he was going to start a nuclear war with the United States. "Are you going to vote to have a war or not?" she pressed. Soon afterward, she learned that excerpts of her letter had been published in Pravda, a Russian newspaper. She wondered why she hadn't gotten a response back, and why her questions hadn't been answered.
Smith wrote a follow-up letter addressed to the Soviet Ambassador to the United States, Anatoly Dobrynin, and mailed it to the Soviet embassy in Washington D.C. This time she received a letter from Andropov shortly thereafter, on April 26, 1983. Andropov wrote of how he did not wish to start a war, and he invited Smith and her family to visit the Soviet Union that summer.
That July, Smith toured the Soviet Union for two weeks. She visited Moscow and Leningrad and joined Soviet children at camp Artek. Her visit was broadcasted on Soviet television, and images also made their way home to the United States. This is when she earned the title of "America's youngest goodwill ambassador."
It was clear early on that Samantha Smith planned to continue making an impact on the world around her. In December of 1983, she took a trip to Japan to give a speech at the Children's International Symposium, and in 1985 she was cast in the TV series Lime Street. Tragically, she died in a plane crash, along with her father, Arthur Smith, and a few others, near Auburn, Maine, in August of 1985.
Her mother, Jane, created the Samantha Smith Foundation, shortly thereafter. For about a decade, summer visits for children to and from the Soviet Union were organized by the Foundation. The Foundation still exists, but it no longer runs its own programs; instead, it distributes funds to various nonprofit programs.
Anne Frank was born June 12, 1929, in Frankfurt, Germany. She had one sibling, Margot, who was three-and-a-half years older than her. Her parents, Otto and Edith, decided to leave Germany after the rise of Hitler, as they were Jewish. Otto set up his business in Amsterdam in the Netherlands. As war loomed, the family tried to emigrate to England or the United States but were unsuccessful. On September 1, 1939, Germany invaded Poland and World War II began.
On May 10, 1940, Germany invaded Amsterdam, and the Netherlands surrendered five days later. Anti-Jewish laws followed, and the family once again tried to leave the country to go to the United States. They were unsuccessful, and after Margot was called to report to a German work camp on July 5, 1942, they went into hiding the following day, in the "secret annex" at Prinsengracht 263 in Amsterdam. The family was joined by the Van Pels family, and then by a dentist, Fritz Pfeffer. There were eight living in the secret annex in total. Various office workers helped them, by bringing food, clothes, and books, and being their contact with the outside world.
Anne wrote a diary about what was happening in the secret annex, and about her thoughts on life at the time. In her writing, she mentioned she hoped to one day be a journalist or writer. On the radio, she heard the Dutch minister of education, in exile in London, appealing to listeners to write war diaries. She decided to edit her diary and call it The Secret Annex, but she was not able to finish it before she and her companions were found by the Nazis. The date was August 4, 1944.
She was first sent to Westerbork, and then to Auschwitz. Two of those who had helped out those in the secret annex, Miep Gies, and Bep Voskuijl, found and saved Anne's diary. Otto Frank was the only one of the eight who survived the Holocaust and the War. He learned his wife had died, but initially held out hope that his daughters were still living. Sadly, he learned they died from disease at Bergen-Belsen. Anne had written that she wanted to publish her diary someday, and her father carried out her wishes, publishing it in 1947. It has since been adapted into a play and film, and it continues to enlighten and inspire the young and old today.
How to Observe Anne and Samantha Day
Spend the day writing to the Citizens' Stamp Advisory Committee, urging them to put Samantha Smith and Anne Frank on postage stamps. There are many other ways you could honor and learn more about Samantha Smith and Anne Frank today. You could read the letters exchanged between Smith and Andropov, or read Smith's book, Journey to the Soviet Union. Artifacts of Smith could be explored at the Maine State Museum. Make sure to visit the statue near the museum entrance if you go there. Photo and video archives of Samantha Smith could also be explored, or you could watch Lime Street. Honor Anne Frank by reading The Diary of Anne Frank. You could also watch the film adaptation of the book. The Anne Frank House, which has been open as a museum since 1960, could also be visited.
Sponsor
This event does not currently have a sponsor. If you'd like to increase visibility for this event while gaining exposure for yourself or your brand, you can
learn more here
!
Something Wrong or Missing?
We would love to hear from you! Please contact us using
this form
.
Observation Notifications
Would you like to be notified before the next observation?
Sign up here
to be told when notifications are available! You may also add this event directly to your calendar with
this link
.