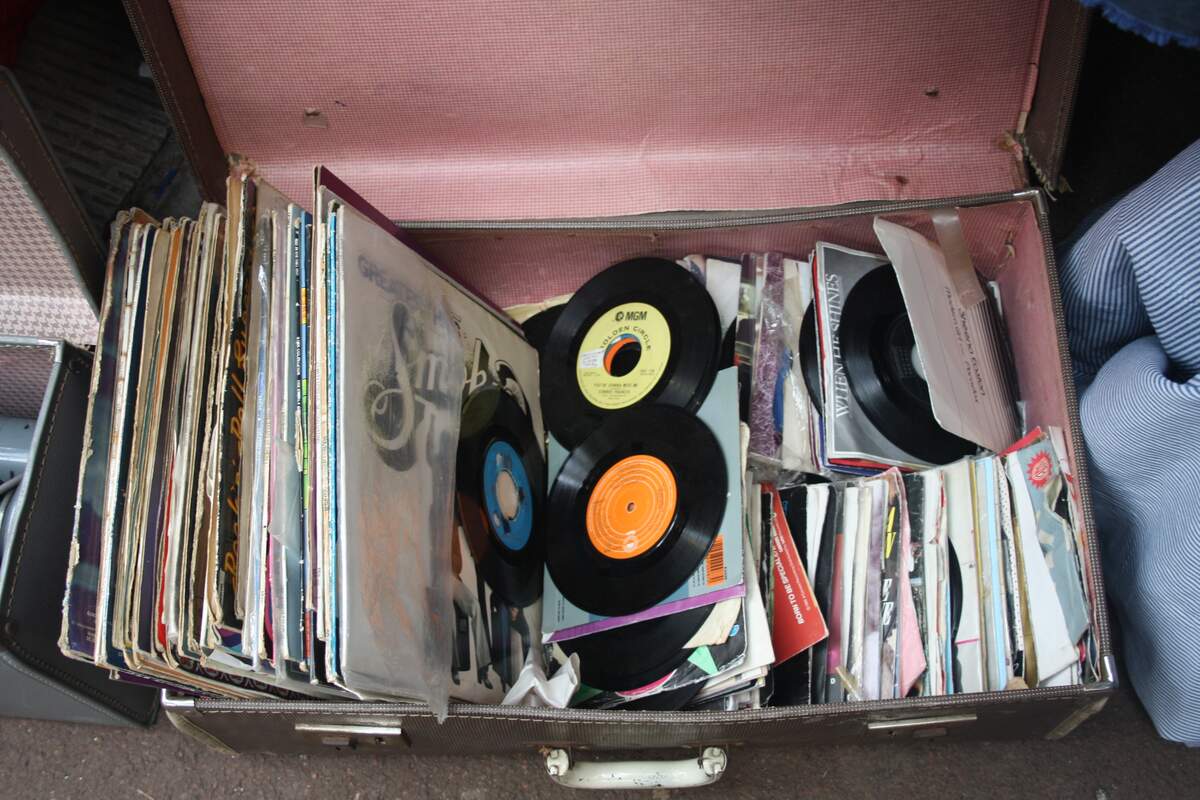 Vinyl Record Day
Observed
Dates
Founded by
Gary Freiberg (of Los Osos, California) in November 2001
Hashtags
Sources
In November of 2001, California resident Gary Freiberg came up with the idea for Vinyl Record Day, at a time when he had been getting more interested and involved with vinyl records. It also was shortly after the September 11th terrorist attacks, and he felt overwhelmed by the constant news of terrorism and war; because of this, he believed that there should be a holiday that would help people recall personal memories of good times and people, and he knew one related to music could do that. He chose August 12th for the holiday's date because it is believed to be this date in 1877 when Thomas Edison invented the phonograph. Freiberg wrote a proposal to the Board of Supervisors in San Luis Obispo County, and in February 2002 they declared August 12, 2002, to be Vinyl Record Day there, with a proclamation penned by Freiberg.
On August 17, 2002, the Saturday following the inaugural holiday, a vinyl celebration was held in the city of San Luis Obispo. Among other activities, generations danced together as the music of many genres was played on vinyl throughout the day. This fulfilled one of the day's goals of having family and friends enjoy music together. Being that the celebration was a success, a belief arose that the same could happen anywhere, and Freiberg created a 501(c)3 nonprofit organization called Vinyl Record Day—it was approved as a "nonprofit public benefit corporation" in California in September 2002, and in January 2003 the IRS designated it as a nonprofit. In 2008, Freiberg made a proposal for a series of U.S. postage stamps featuring vinyl records, to get national exposure in order to raise awareness about the goals of the Vinyl Record Day nonprofit and holiday. The proposal went under consideration by the Citizens' Stamp Advisory Committee.
The goals of Vinyl Record Day (and of the nonprofit with the same name) are numerous. It celebrates vinyl, aiming to preserve its past and promote it for the future. It preserves the cultural influence, cover art, and recordings of vinyl. According to Freiberg, preserving and caring for record collections is essential because vinyl records and covers are part of our audio heritage, and many vinyl records don't exist in a digital format. He said the importance of preserving audio history must be known, or many recordings will eventually be lost. These are not just commercial recordings, but speeches, radio broadcasts, soundtracks, and obscure music. The day promotes vinyl so that its demand increases, so future generations continue to take interest in it, and so that its value continues to increase. Despite sometimes unsettling national news, as well as personal daily challenges, music can remind us that life has goodness, by bringing back fond memories. Another goal of Vinyl Record Day is to remind people of this goodness, by encouraging the celebration of music and musical memories with family and friends.
Vinyl records, also called vinyls, are named for the material they are made of, a synthetic plastic called polyvinyl chloride. Records weren't always made of this material. Shellac records predate vinyl ones, and before them, there were phonograph cylinders made of materials such as wax, zinc, and glass. For most of the first half of the twentieth century, 10-inch 78 rpm (revolutions per minute) shellac records, with a song on each side, dominated the market.
In 1948, Columbia Records introduced the 12-inch 33 ⅓ rpm vinyl record. Its microgrooves allowed 21 minutes of music to be held on each side, and it didn't break or shatter like shellac did. It was also released in a 10-inch format. RCA Victor Records, Columbia's main competition, released a 7-inch 45 rpm record in 1949. Black became the standard vinyl color, but red, green, blue, and clear, among other colors, weren't—and aren't—uncommon. Although 78s remained, 33s and 45s became the norm, with 33s being known as LPs (long plays) or albums, and 45s being known as EPs (extended plays) or singles because they had just one or two songs on each side.
The younger and teen crowd gravitated toward 45s, which were the primary medium for pop and rock & roll songs, while adults were the primary purchasers of 33s, the standard medium for classical music. A shift came in the late sixties when albums became the format of choice—or at least were on more equal footing with singles—for the younger generation. Sgt. Pepper's Lonely Hearts Club Band, a Beatles album released in 1967, helped precipitate the shift. Albums like The Dark Side of the Moon and Rumours were released during the following decade and further exemplified the strength of the 33 rpm LP vinyl record.
But the predominance of vinyl records didn't go unchallenged, and wouldn't last forever. The Sony Walkman, which played cassette tapes and allowed music to be taken anywhere, hit the market in 1979. By the mid-eighties, cassettes had superseded vinyl records. Then came the ascendency of the compact disc and portable CD players. Apple debuted the iPod in 2001, which allowed people to take whatever music they wanted anywhere. After the iPod came streaming services, which put almost any song at one's fingertips whenever it was wanted.
But along with the growth of the iPod and of streaming services, there came a resurgence of interest in vinyl. In 2008, vinyl LP sales rose for the first time since 1984, going up by 89%. Sales continued to increase during the following years. There were and are a number of reasons that vinyl records appealed and do appeal to people. Some claim they have a warmer sound and better audio fidelity. Some want something more tangible or a more authentic experience—sometimes even down to the crackle and pop sound that some older records provide.
Vinyl records are not only sought by casual listeners, but by avid collectors and DJs. Both rare records and common records that a collector enjoys may be searched for. New releases of limited edition records, colored vinyl, and picture discs may draw in some collectors. Some may eschew new pressings and focus on finding original copies of records, or as close to the original they can get without shelling out an exorbitant sum of money. Some collect for investment or nostalgia purposes, others may find record covers to be more important than the music, and for many, the hunt of looking for records is part of the thrill. Whatever one's reasons for buying, listening to, or collecting vinyl records, it is certain the goals of Vinyl Record Day will resonate with them and they will have much to celebrate today!
How to Observe Vinyl Record Day
Some ways you could celebrate Vinyl Record Day include:
On the day or on the following Saturday, join together with family and friends. Have everyone bring over some of their favorite records, especially records that contain music that brings back memories. Attendees could say why they brought certain records and what memories they have associated with them. Someone could deejay, songs could be dedicated, and there could be limbo and twist contests and dancing.
If you have a place of business, especially if it's a record store, promote the day. Play only vinyl records, have a sale, display album covers, and have dance competitions.
Share with a young person what some of your favorite albums on vinyl are.
Visit or support a museum or organization that is involved with music history and preservation.
Buy some vinyl records. Dig for them at rummage or garage sales, flea markets, resale shops, record stores, or at a record show, or if you know exactly what you want and want to skip the hunt, order them on Discogs or eBay. If you don't know what to buy, perhaps looking for some albums that are on Rolling Stone's "The 500 Greatest Albums of All Time" lists—the original or updated—is a good place to start. While you're at it, you might as well keep your eyes peeled for one of the world's most valuable records. You could also buy yourself a new turntable to play your albums or singles on.
Read a book about music or vinyl records such as 45 RPM: The History, Heroes, and Villians of a Pop Music Revolution, The Heart of Rock and Soul: The 1001 Greatest Singles Ever Made, 1001 Albums You Must Hear Before You Die, 101 Essential Rock Records, Dust & Grooves: Adventures in Record Collecting, or 1000 Record Covers.
Watch a documentary about vinyl records or record collecting, or a film that features vinyl records or record collecting.
Check out the website for Goldmine magazine.
Exclusive Content
Enjoying Checkiday? It takes a lot of support from fans like you to run a free website. For exclusive content and other perks, please consider supporting us on
Patreon
. Thank you!
Sponsor
This event does not currently have a sponsor. If you'd like to increase visibility for this event while gaining exposure for yourself or your brand, you can
learn more here
!
Something Wrong or Missing?
We would love to hear from you! Please contact us using
this form
.
Observation Notifications
Would you like to be notified before the next observation? Add this event directly to your calendar with
this link
. You may also
sign up here
to be told when other notifications are available!