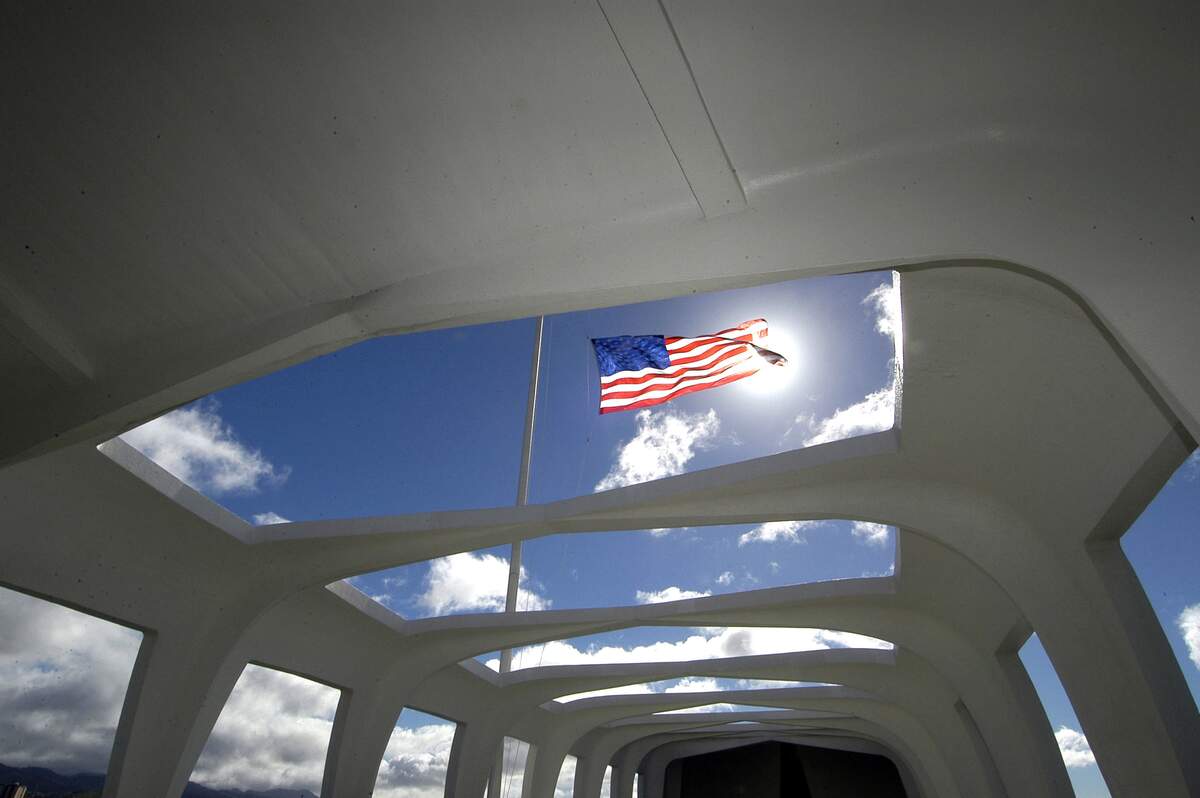 National Pearl Harbor Remembrance Day
Also known as
Pearl Harbor Remembrance Day
Observed
Dates
Founded by
Tags
History & Culture

Military & Patriotic
Hashtags
Sources
On the morning of December 7, 1941, Japan launched a surprise attack on Naval Station Pearl Harbor, located in Honolulu, Hawaii, on the island of Oahu. National Pearl Harbor Remembrance Day remembers and honors the 2,403 citizens of the United States who lost their lives there that day. Veterans and citizens have commemorated the anniversary of the attack on Pearl Harbor since it took place, but the day became an official observance when Congress designated the day with a joint resolution on October 3, 1984. The resolution authorized and requested the President to issue a proclamation calling upon the people of the United States "to observe this solemn occasion with appropriate ceremonies and activities" and "to pledge eternal vigilance and strong resolve to defend this Nation and its allies from all future aggression." Accordingly, President Ronald Reagan issued Proclamation 5286 on December 4, 1984. Subsequent Congresses and presidents have passed resolutions and issued proclamations for the day. On the day, flags are flown at half-staff until sunset to honor those who died from the attacks. Events, including a commemoration ceremony, are held at the Pearl Harbor National Memorial.
Although the attack on Pearl Harbor was a surprise, tensions had been building between the United States and Japan for years. In the 1930s, Japan expanded into China, taking over its import market, agitating the United States. Japan invaded China in 1937 and subsequently participated in the Nanjing Massacre. During the following year, the United States gave its first loan to China. The United States instituted economic sanctions and trade embargoes with hopes they would keep Japan from expanding. In July 1939, the United States terminated the Treaty of Commerce and Navigation, which had stood with Japan since 1911. In the summer of 1940, the United States began restricting the export of some materials to Japan that would be useful to them in war. In July 1941, all commercial and financial connections with Japan were cut off, Japan's assets were frozen, and an embargo was placed on petroleum and other war materials. Concurrently, the United States stepped up aid to China, which did not please Japan's militarists. Japan did not shift course and tensions continued to rise.
Japan ordered the attack on November 5, but negotiations took place between Japan and the United States right up until the day of the attack, and Japan's commanders were told that they may be recalled if negotiations produced a favorable outcome. On November 26, the Japanese fleet stationed itself about 275 miles north of Hawaii. It was from this location that around 360 planes eventually launched to Pearl Harbor.
On more than one occasion, most notably on November 27, U.S. Army and Navy commanders at Pearl Harbor were warned that an attack was possible. They took some steps, but as they did not think that an attack would happen, their preparations were far from adequate. Washington didn't take the steps that were needed to be prepared either—they didn't expect Japan to attack Hawaii as Japan was about 4,000 miles from the island and Hawaii was about 2,000 miles from mainland United States. There were also some indications right before the attack that should have raised red flags that one was imminent. Early on the morning of the attack, it was learned in Washington that the Japanese ambassadors wanted an interview with the secretary of state at 1:00 p.m. (7:30 a.m. Hawaii time), which signaled war. Meanwhile, in Pearl Harbor, a Japanese submarine was spotted by a minesweeper four hours before the attack. Then, an hour and a half before the attack, the USS Ward, a destroyer, transmitted a message saying that it had engaged the submarine. Additionally, U.S. Army Pvt. George Elliott detected incoming planes on a radar screen, but he was told by his lieutenant that B-17 bombers from the United States were soon to arrive, so he should disregard what he saw.
On the morning of Sunday, December 7, 1941, at 7:55 a.m. Hawaii time, the first of hundreds of fighter planes, bombers, and torpedo planes of the Imperial Japanese Navy Air Service attacked Naval Station Pearl Harbor. After much success, Japan launched a second wave of attack at 8:50 a.m., which lasted until shortly after 9 a.m. Most of the United States Pacific Fleet was moored around Ford Island in the center of the harbor at the time, and many airplanes were parked at nearby airfields. Japan's goal was to take out the fleet, and then to go on to other parts of the South Pacific, which the United States would then be unable to defend.
The attack on Pearl Harbor left 2,403 United States citizens dead, including 2,335 service members and 68 civilians. Additionally, 1,178 Americans were injured. Most of the damage was done in the first 30 minutes of the attack. Around 8:10 a.m., a 1,800-pound bomb was dropped on the USS Arizona, which went through the deck and into the forward ammunition magazine, causing the ship to explode and 1,177 of its crew members to perish. Following the destruction of the USS Arizona, torpedoes hit the USS Oklahoma, which sank, causing the loss of life of 400 sailors. The USS Utah—a battleship that was converted to a target ship in 1931—was sunk and 58 lost their lives. The rest of the battleships at the harbor were either sunk or damaged, and there were casualties on each vessel, including the USS California, USS West Virginia, USS Maryland, USS Pennsylvania, USS Tennessee, and USS Nevada. Each of these six battleships would eventually be returned to service. Three destroyers, three cruisers, and one minelayer were damaged. Aircraft were also targeted, with 159 being damaged and 188 being destroyed, most while parked at Naval Air Station on Ford Island and at nearby Wheeler and Hickam fields.
Although these losses and damages were disastrous for the United States, the Pacific Fleet's three aircraft carriers were away from the base at the time, remaining unscathed, which was of immense importance. Some cruisers and destroyers were also near the aircraft carriers, out of harm's way. Of additional importance, parts of Pearl Harbor—submarine docks, shipyards, repair shops, and oil storage depots—were not harmed. As for the Japanese, they lost fewer than 100 men, 60 or fewer planes, five midget submarines, and perhaps one or two fleet submarines in the attack.
The events of Pearl Harbor unified the American public and precipitated the almost immediate entry of the country into World War II. The day after the attack, President Franklin Delano Roosevelt made a speech to Congress in which he said December 7, 1941, was "a date which will live in infamy." He went on to say, "No matter how long it may take us to overcome this premeditated invasion, the American people in their righteous might will win through to absolute victory. I believe I interpret the will of the Congress and of the people when I assert that we will not only defend ourselves to the uttermost, but will make very certain that this form of treachery shall never endanger us again." He closed out his speech by asking Congress to declare war on Japan. Congress declared war the same day and the United States entered World War II on the side of the Allies. When Germany and Italy declared war on the United States three days later, the US declared war on them as well.
On National Pearl Harbor Remembrance Day, we remember and honor those who lost their lives on today's date in 1941 at Pearl Harbor. We fly the flag at half-staff and attend events in their honor. We remember the great significance of the day and how it brought the United States into World War II, forever changing the nation.
How to Observe National Pearl Harbor Remembrance Day
The day should be spent remembering and showing honor for those who lost their lives at Pearl Harbor. The following are some ideas on how to observe the day:
Exclusive Content
Enjoying Checkiday? It takes a lot of support from fans like you to run a free website. For exclusive content and other perks, please consider supporting us on
Patreon
. Thank you!
Sponsor
This event does not currently have a sponsor. If you'd like to increase visibility for this event while gaining exposure for yourself or your brand, you can
learn more here
!
Something Wrong or Missing?
We would love to hear from you! Please contact us using
this form
.
Observation Notifications
Would you like to be notified before the next observation? Add this event directly to your calendar with
this link
. You may also
sign up here
to be told when other notifications are available!