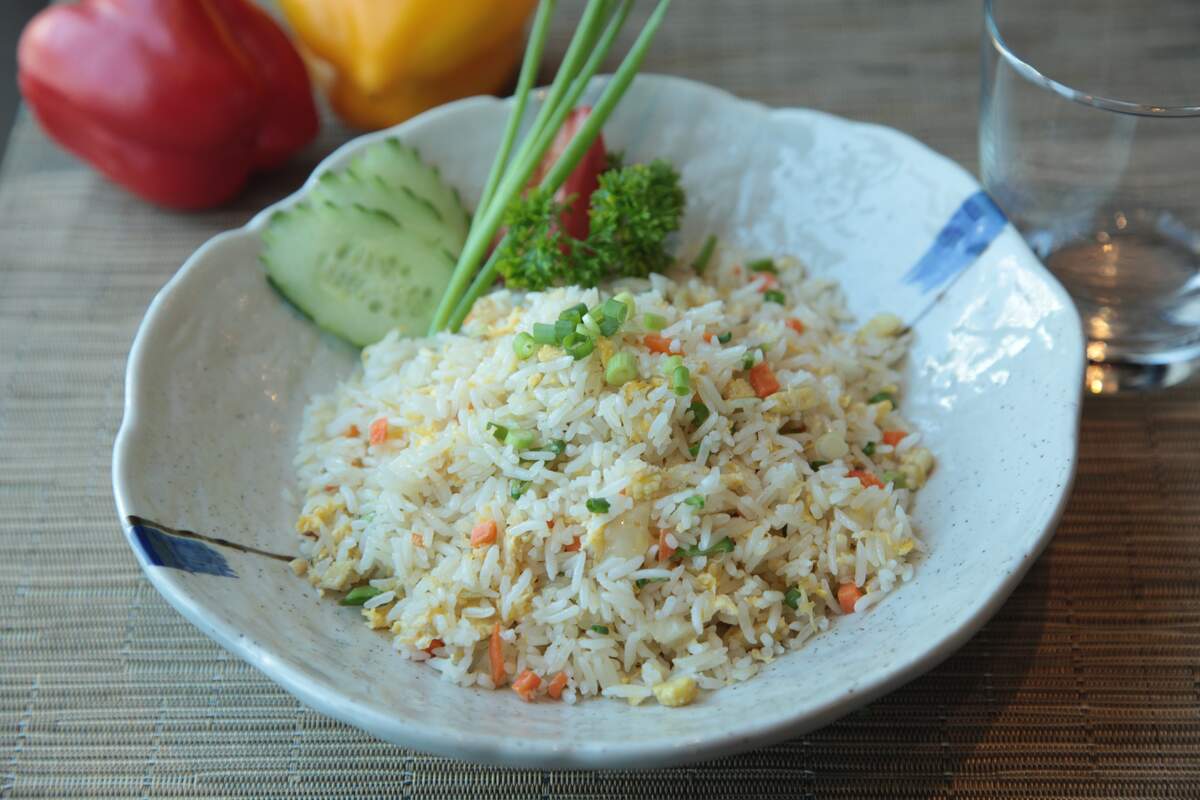 National Fried Rice Day
Observed
Dates
Founded by
Tags
Hashtags
Sources
Created by Benihana, "the nation's leading operator of Japanese-inspired Teppanyaki and Sushi Restaurants," whose signature dish is fried rice, National Fried Rice Day is observed today. In 2018, in honor of the first observance, two Benihana chefs—Andrey Shek of the 56th Street location in Midtown Manhattan, New York City, and Raymundo Mendez of the Hancock Tower location on Michigan Avenue in Chicago—grilled the restaurant's fried rice for 42 hours and 17 minutes straight, breaking the Guinness World Record for Longest cooking marathon. As part of the event, Benihana partnered with Feeding America and donated the fried rice to City Harvest, New York City's largest food rescue organization, and to Cornerstone Community Outreach, a Chicago organization which serves about 500 people a day. More than 550 servings of fried rice were donated to each location.
Also on the day, customers at select Benihana restaurants were given a complimentary serving of fried rice with the purchase of an entrée. "National Fried Rice Day is our way of bringing our signature dish to the forefront while giving back to our community and also giving guests a special opportunity to enjoy our iconic Benihana guest experience," said Tom Baldwin, Behihana's CEO and President.
For the second observance, in 2019, Benihana gave out free samples of their hibachi chicken fried rice with a purchase of an entrée at select locations around the United States. It was a two-day celebration, taking place on September 19 and 20. A chance was also given to win fried rice for a year: participants who shared a picture of their free rice sample along with the hashtag #NationalFriedRiceDay on Twitter and Instagram were entered into the contest. Benihana's other restaurants, RA Sushi and RA Sushi, also participated.
In 2020, Benihana partnered with No Kid Hungry for another two-day event. Participating restaurants under the Benihana umbrella donated $1.00 from every sale of hibachi rice to No Kid Hungry. Participants were also able to enter to win fried rice for a year.
Fried rice can be put together as simply as throwing some rice and vegetables in a wok and adding a small amount of soy sauce and salt. Leftover rice that's a few days old, with a drier texture, is more suited for the dish than fresh rice. Medium or long-grain jasmine rice is also usually preferred, because of its resilience when being fried. The fried ingredients provide the majority of the flavor, with seasonings being minimal. Fried rice can be made in a frying pan, but a wok is ideal, because it heats up quickly when new ingredients are added, and allows for high-heat cooking since wok tossing prevents food from burning.
Fried rice is a Chinese dish and is an essential component of Chinese cuisine today. Vegetables, meat, herbs, spices, nuts, seeds, eggs (scrambled-in or fried and placed on top), cheese, and condiments like soy sauce are regular ingredients with the rice. When fried rice emerged, it was a way to save money and to use up leftover rice and vegetables that were on their way to perishing. It is believed to date to the Sui dynasty (CE 589–618) and was probably fried up for the first time in Yangzhou City. The stir-fry technique likely came about during the Ming dynasty (CE 1368–1644).
In China, typical variations of fried rice are Yangzhou fried rice and Hokkien fried rice. Yangzhou, also known as Yeung chow, is made with shrimp, eggs, and barbecued pork. It's the most common fried rice in Chinese restaurants and may be referred to as special fried rice or house fried rice. Hokkien, from the Fujian region, has a thick sauce that is poured over the rice that may be made with meat, mushrooms, and other vegetables. Other common Chinese fried kinds of rice are Szechwan, which has garlic, red onion, and green onion, and is spicy on account of doubanjiang chili sauce, and Yin-yang, which is appropriately topped with two different sauces, usually a savory white sauce and a red tomato-based sauce.
Fried rice gained a foothold in the United States in the nineteenth century when it was introduced by Chinese immigrants who came during and after the California Gold Rush. Chinese restaurants emerged and became popular, and served dishes similar to what we now find in American Chinese restaurants.
Fried rice is a traditional street food in Asia, and has been adapted around the world. Some of the most common variations include:
Aligue fried rice, also known as crab-fat fried rice, is from the Philippines. It is similar to sinangág, but aligue, a crab fat paste, is added. It is often combined with seafood like shrimp or squid, or paired with meat dishes.
American fried rice, ironically, is from Thailand and is stir-fried rice with onions, ham, sausages, peas, and raisins. Fried chicken strips and a fried egg are sometimes included. It is seasoned with a sweet and savory sauce made up of fish sauce, soy sauce, and ketchup.
Arroz chaufa, from Peru, is similar to Chinese fried rice, although exotic meats like beef tongue, alligator, and lizard are sometimes used. In some areas, the rice may be mixed with noodles, or even be replaced with quinoa or pearled wheat.
Arroz frito, from Cuba, includes ham, grilled pork, shrimp, chicken, eggs, and vegetables. Leftover lechón asado (suckling pig), crab, and lobster are sometimes added.
Arroz mamposteao, from Puerto Rico, often has Asian ingredients like bean sprouts, ginger, garlic, and soy sauce, along with ingredients native to Puerto Rico like red beans, squash, sweet plantains, bacon, longaniza, and vegetables. It is garnished with the likes of sesame seeds, avocado, aioli, cheese, and cilantro.
Bagoong fried rice, from the Philippines, uses bagoong alamang (shrimp paste) as its indispensable flavoring. It may also have green mangoes, meat, and scallions.
Bai cha, from Cambodia, is usually made with sausages, pork, eggs, garlic, soy sauce, and herbs.
Bhuteko bhat, from Nepal, is often eaten with achar, curry, and dhal.
Bokkeum-bap, from Korea, consists of cooked rice and other ingredients stir-fried in oil. A common type is kimchi-bokkeum-bap, which is made with kimchi.
Burmese fried rice, from Myanmar, uses Burmese fragrant short grain rice. A common version has rice, boiled peas, garlic, onions, and dark soy sauce.
Chahan, or yakimeshi, is a Japanese Chinese dish from Japan. It uses short-grain rice that is stir-fried with ham, eggs, and green onion and is seasoned with soy sauce. In Osaka, Worcestershire sauce is commonly used in place of soy sauce.
Chaulafan, from Ecuador, uses dark soy sauce and meat like pork, chicken, beef, fish, and shrimp.
Chofán, from the Dominican Republic, consists of white rice, carrots, peas, onions, celery, peppers, ham, chicken, eggs, shrimp, and soy sauce sauteed in vegetable oil.
Cơm chiên, or Cơm rang, from Vietnam, has diced sausage, stirred eggs, soy sauce, and onions.
Ghanaian fried rice is rice stir-fried with veggies—usually carrots, spring onions, peas, and green bell peppers—as well as eggs, meat, and spices—usually chili and salt—and sauces like soy sauce and chicken broth.
Khao pad goong, from Thailand, is fried rice with shrimp and usually comes with a side of lime and prik nam pla, a spicy sauce made with chopped garlic, fish sauce, and Thai chili pepper.
Khao phat, from Thailand, uses Thai jasmine rice and includes meat like chicken, pork, crab, or shrimp, as well as eggs, onion, and garlic. Tomatoes are sometimes added. Seasonings and condiments include soy sauce, fish sauce, sugar, salt, and chili sauce. It is served with slices of tomato, cucumber, and lime, sprigs of coriander and green onion, and prik nam pla.
Nasi goreng, from Indonesia, is caramelized and dark and seasoned with sweet kecap manis. It may have ground shrimp paste, as well as a runny egg on top. Other common toppings are fried chicken or satay. Condiments like sambal, acar, and krupuk accompany it.
Nasi goreng jawa, or Javanese fried rice, has a spicy flavor and often has sambal ulek as a seasoning.
Nasi goreng pattaya is a Malaysian-style nasi goreng wrapped in an egg omelette. The rice is mixed with meat and vegetables, and the dish is garnished with tomato sauce. It is also common in Indonesia, called nasi goreng amplop.
Omurice, from Japan, is fried rice mixed with vegetables and meat and wrapped inside an egg omelet.
Sinangág, also known as garlic fried rice, is from the Philippines and is often eaten for breakfast and part of tapsilog. It is stir-fried rice with garlic, topped with roasted garlic, salt, and pepper. It is often paired with a "dry" meat dish like tocino, tapa, longganisa, or spam.
How to Observe National Fried Rice Day
Check to see if Benihana has organized any events or contests for this year's observance. Have some fried rice at Benihana or another restaurant. You could also make some fried rice. You could try to make one of the types mentioned above in the holiday description, or use up leftovers and simply fry up rice and vegetables in a wok and add a little bit of soy sauce.
Exclusive Content
Enjoying Checkiday? It takes a lot of support from fans like you to run a free website. For exclusive content and other perks, please consider supporting us on
Patreon
. Thank you!
Sponsor
This event does not currently have a sponsor. If you'd like to increase visibility for this event while gaining exposure for yourself or your brand, you can
learn more here
!
Something Wrong or Missing?
We would love to hear from you! Please contact us using
this form
.
Observation Notifications
Would you like to be notified before the next observation? Add this event directly to your calendar with
this link
. You may also
sign up here
to be told when other notifications are available!