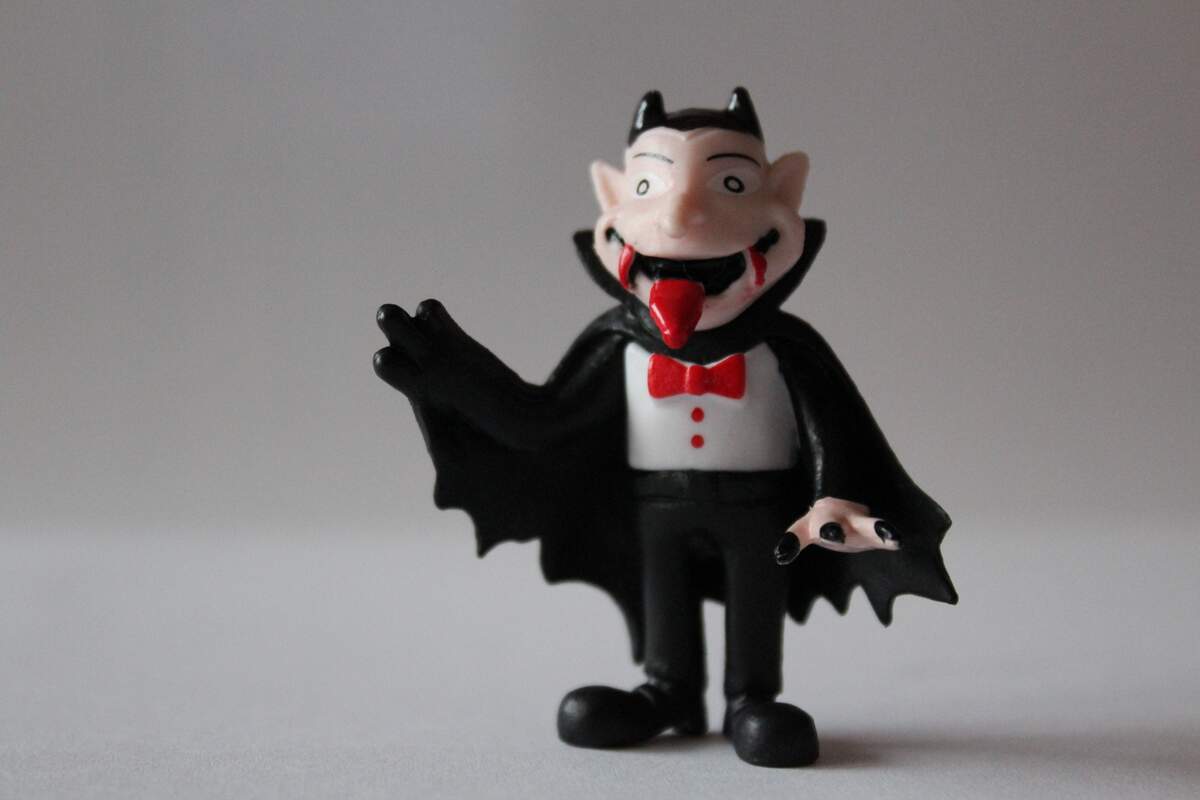 World Dracula Day
Bram Stoker's Gothic horror novel Dracula was first published on today's date in 1897, by Archibald Constable and Company in Britain. It sold for six shillings and came bound in yellow cloth with red lettering. It was first printed in the United States two years later, by Doubleday & McClure of New York City. Although not the first novel about vampires, it became a model for the genre, and laid the foundation for future vampire stories, with its introduction of the character Count Dracula.
The novel was successful at its time, garnering positive reviews, but it has become even more significant with modern readers than it was with Victorian readers. At the time, it didn't even make Bram Stoker rich. Today it has reached legendary status and has inspired many adaptations. Interestingly, it was film adaptations of the early twentieth century that helped the novel gain more notoriety. It has also been adapted to theater and television.
The book follows (spoiler alert!) an English lawyer named Jonathan Harker as he travels to Transylvania to meet Count Dracula at his castle, Castle Dracula. To Harker, Dracula appears pale and off-kilter. The strangeness of Dracula is more apparent after he lunges at Harker's throat after Harker cuts himself while shaving. Harker eventually finds out that Dracula is a vampire who needs to drink human blood to survive. Afterward, Dracula locks Harker in the castle and flees to England with 50 boxes of dirt (it is believed he needs dirt from his home country to stay healthy). As Dracula heads to England to search for new blood, Harker eventually escapes from the castle.
Meanwhile, Mina, Harker's fiancée, is visiting her friend Lucy in England. One night, Mina finds Lucy sleepwalking by a graveyard. Mina believes she sees a creature hovering over Lucy for a moment, and then notices two red marks on Lucy's neck. Lucy becomes sick over the next few days and is then cared for by a Dr. Seward and by Dr. Abraham Van Helsing, before eventually dying. Afterward, strange reports begin surfacing that a creature has been attacking children in the area.
Jonathan Harker and Mina are reunited and married. Harker tells Dr. Helsing about his experience with Dracula, and Helsing then believes Lucy contracted vampirism from him and is the one attacking children. They dig up her corpse, cut off her head, put a stake through her heart, and stuff her mouth with garlic. They then turn their focus to Dracula and try to destroy his boxes of dirt. He escapes back to Transylvania, where they find him buried in the last box of dirt. They cut off his head and stab him through the heart, causing him to collapse into dust.
Stoker spent years researching vampires before writing Dracula. During that time, he was particularly influenced by "Transylvanian Superstitions," an essay by Emily Gerard that was published in 1885. Stoker worked at the Lyceum Theatre in London from 1878 to 1898. The theater was headed by Henry Irving, who Stoker based Dracula's mannerisms on. It was even Stoker's hope that Irving would play Dracula in a stage adaptation, but it did not happen.
One theory posits that Dracula is based on Vlad III, who is also known as Vlad the Impaler. Born in Transylvania in the fifteenth century, he was also called Drăculea, which means "Son of Dracul." Indeed, his father was known as Dracul, a name that derived from the knightly order he belonged to—the Order of the Dragon (the Latin word draco means dragon). In modern Romanian, drac means "devil." It is believed that Stoker picked the name Dracula after learning this more modern translation. Some believe that the only connection between Vlad III and Dracula are their names, but some go further. Vlad III was known for impaling his enemies, and one unsubstantiated account says that he dipped bread in his victims' blood and ate it in front of them as they died on stakes.
Dracula has been interpreted in numerous ways. Some have interpreted the story as an allegory of the fear that western Europeans had of eastern Europeans coming into their area. Hence, the story of someone coming from Transylvania—in Romania—to London and wreaking havoc on its residents. This theme appeared in other novels of the time. Some have seen the book as a reaction to the conservative and patriarchal norms of the Victorian period, and as an exploration of suppressed sexual desire. Some also have seen the book as being about the relationship between the past and future, with Dracula symbolizing a primitive past that challenges modernity.
The novel has often been adapted. Stoker wrote the first theatrical adaptation, which debuted at the Lyceum Theatre, where he worked, before the novel was even out, on May 18, 1897. He put on the production so he would have the copyright for similar productions in the future.
The silent film Nosferatu, directed by F.W. Murnau, was released in 1922. The story of Dracula was changed a bit in it because Stoker's widow Florence wouldn't give permission to adapt the story. For example, it was set in 1830's Germany instead of 1890's London, and the names of some characters were changed. Stoker's widow still wanted the film removed from circulation, and Stoker's estate sued. They won, but the film by then had made its way to the United States, where Dracula was already in the public domain (Stoker previously hadn't followed some of US copyright law properly). Ironically, it was this film that helped the book begin gaining in popularity.
Shortly after the release of Nosferatu, Florence Stoker granted permission for a stage adaptation of Dracula. It debuted in 1924 in the United Kingdom and toured the country for three years, and then kept playing in London. In 1927, the UK version was tweaked a bit and came to America. Bela Lugosi played Dracula while Edward van Sloan played Van Helsing. Lugosi and van Sloan reprised their roles in a successful Universal Studios film in 1931. The character of Dracula continued to appear in many Universal Studios films in the 1930s and 1940s.
In 1958, the film Dracula was released in Britain. It was released as Horror of Dracula in the United States. Christopher Lee played the role of Dracula and Peter Cushing appeared as Van Helsing. They both reprised their roles in subsequent films over the following decades. The BBC produced a television adaptation called Count Dracula in 1977. That same year, there was a revival of the 1924 play. In 1979, Dracula starring Frank Langella was released, as was Werner Herzog's Nosferatu remake, Nosferatu the Vampyre. In 1992, Gary Oldman starred as Dracula in Francis Ford Coppola's Bram Stoker's Dracula. The character Dracula has appeared in well over 200 films, many times in stories unrelated to the original Dracula. Today we celebrate the original novel as well as its many adaptations.
How to Observe World Dracula Day
Here are some ideas to get you started celebrating the day!
Exclusive Content
Enjoying Checkiday? It takes a lot of support from fans like you to run a free website. For exclusive content and other perks, please consider supporting us on
Patreon
. Thank you!
Sponsor
This event does not currently have a sponsor. If you'd like to increase visibility for this event while gaining exposure for yourself or your brand, you can
learn more here
!
Something Wrong or Missing?
We would love to hear from you! Please contact us using
this form
.
Observation Notifications
Would you like to be notified before the next observation? Add this event directly to your calendar with
this link
. You may also
sign up here
to be told when other notifications are available!