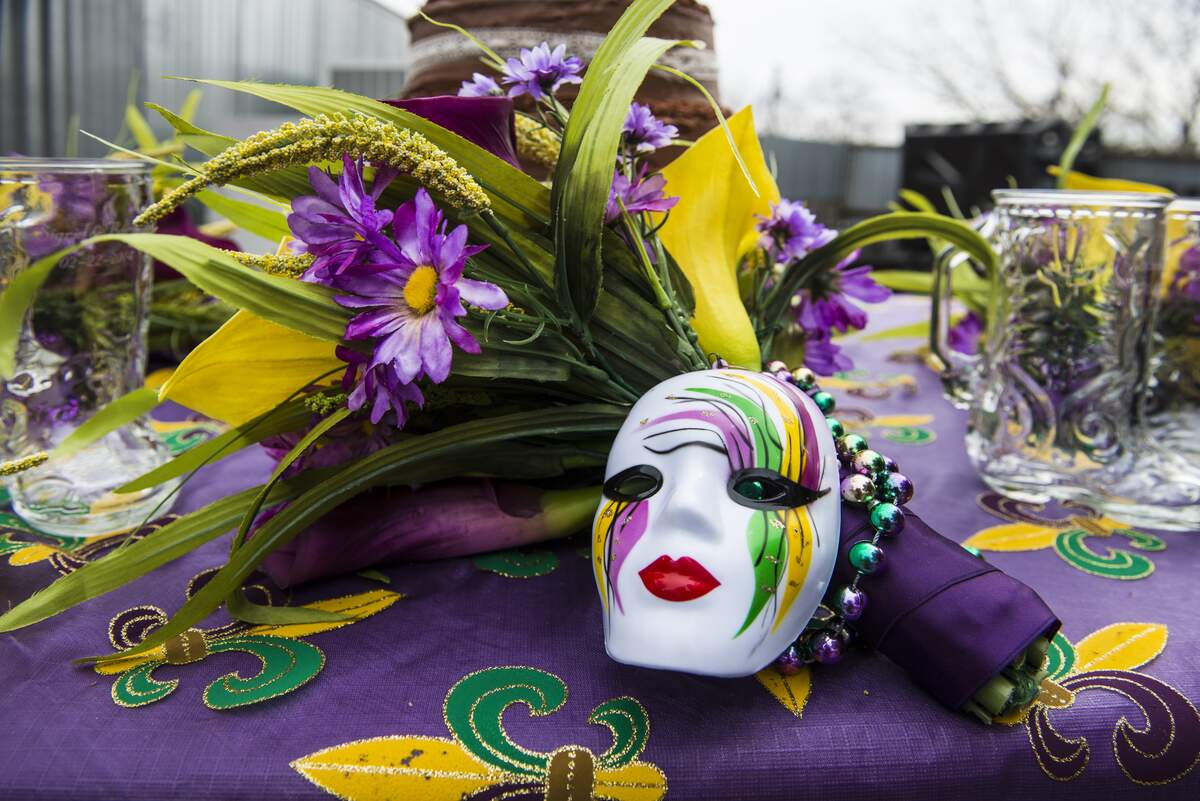 Mardi Gras
Also known as
Observed
Dates
Hashtags
Sources
In French, Mardi means Tuesday, and gras means fat, so it makes sense that Mardi Gras is often called Fat Tuesday. It is also called Carnival or Carnaval—a name that is also used to refer to the whole period between Epiphany and Ash Wednesday—as well as various other names in different countries. It takes place on the day before Ash Wednesday—when Lent begins—although, in many places where it is widely celebrated, it is a week-long festival. Mardi Gras is held all around the world, particularly in cities with large Roman Catholic populations. Its epicenter is New Orleans, where most non-essential businesses are shut down and locals and pilgrims come together for parades, music, food, and drink. Revelers wear costumes, dress in purple, gold, and green, and wear beads they catch at parades. Large Mardi Gras festivals are also held in Brazil and Venice, and celebrations of the holiday commonly take place in Mississippi, Alabama, Canada, Germany, and Denmark.
Although Mardi Gras is a Christian holiday, it is generally believed to have roots in pagan celebrations of spring and fertility like Saturnalia and Lupercalia. (Although, some experts dispute that there are pagan roots and say it sprang up in response to the Catholic Church's stringent rules during Lent.) Upon Christianity's arrival in Rome, the religion blended with pagan traditions, and so began a time of debauchery preceding the 40 days of fasting between Ash Wednesday and Easter Sunday. In the lead-up to Lent, Christians made sure to eat all the rich and fatty foods in their house, like lard, milk, eggs, cheese, and meat. As Christianity spread to other European countries, so did these traditions.
The origins of Mardi Gras as we know it today are in the parties of the seventeenth and eighteenth-century Rome and Venice. From there, the parties spread to France, where the French House of the Bourbons celebrated Boeuf Gras—"Fatted Calf." The French then brought the celebrations to their colonies and the New World. On March 2, 1699, two French-Canadian explorers and brothers, Jean Baptiste Le Moyne Sieur de Bienville and Pierre Le Moyne d-Iberville arrived 60 miles south of present-day New Orleans, on the eve of when the holiday was held, and named the spot "Pointe du Mardi Gras." This is viewed by some as the first Mardi Gras in America. Others say that the first Mardi Gras in America was celebrated in 1703, at "Fort Louis de la Louisiane," where the settlement La Mobile was located. The brothers had a hand in the creation of the fort and settlement the year prior—the settlement is now the location of the community of Le Moyne, which is north of present-day Mobile.
Bienville established New Orleans in 1718. Mardi Gras was celebrated there then, and more publicly so by the 1730s, although not with the parades that would later become associated with it. Louisiana's governor created society balls in the early 1740s, which became a model for the New Orleans Mardi Gras balls. Thus, Mardi Gras at the time was defined by masked balls, street parties, and dinners. When the Spanish took control of New Orleans in 1762, these practices were banned. France took control of the area at the turn of the century, and the United States acquired the area in 1803 with the Louisiana Purchase. The bans on Mardi Gras festivities weren't removed until Louisiana became a state in 1812.
The first official Mardi Gras parade in New Orleans is recorded as taking place in 1837. These street processions had carriages and horses with masked riders. Gaslight torches called "flambeaux" lit the way. In 1856, an anonymous group joined together to form the Mistick Krewe of Comus. They ushered in a new era of Mardi Gras in New Orleans the following year when they organized a masked ball and a parade called The Demon Actors in Milton's Paradise Lost, which had marching bands and rolling floats called tableaux cars. This helped to establish the city as the center of the holiday in the United States and to increase the popularity of the festival in general.
A second Mardi Gras krewe, Twelfth Night Revelers, was formed in 1870. Then, in 1872, Rex, another krewe, which is known as the "King of Carnival," came on the scene. They presided over the first daytime parade of Mardi Gras in New Orleans. They also designated purple, green, and gold to be the official colors of the festival, in honor of Russian Grand Duke Alexei Alexandrovich, who had those family colors and was visiting at the time. The colors remained the colors of Mardi Gras in the years after. Many more krewes have been started since the original ones. The early krewes were white and male-only krewes, so women and Blacks created their own, like Les Mysterieuses and the Zulu Social Aid and Pleasure Club. An ordinance was passed in 1992 that said krewes couldn't parade unless they integrated. Some krewes still refused to integrate into the twenty-first century, and thus, weren't able to march.
Louisiana's Governor Warmouth signed the Mardi Gras Act in 1875, which made Mardi Gras a legal holiday in Louisiana. It is the only state where Mardi Gras is a legal holiday today, although it is celebrated in other parts of the country, particularly in Alabama and Mississippi. Mardi Gras has stood the test of time and many of its customs from centuries ago remain. Floats are decorated and parades are held. Beads and trinkets are thrown. Festive masks are worn. King cake is eaten and alcohol is imbibed. While New Orleans is its home, it can be celebrated anywhere, and we celebrate it today!
How to Observe Mardi Gras
There are many ways you could partake in Mardi Gras!
Travel to New Orleans and take part in the many festivities there. Dress up, attend a parade, eat some of the city's most iconic foods at its best restaurants, and have some drinks at its best bars.
Travel to another location that is known for its Mardi Gras celebrations, such as Venice.
Eat fatty foods made with lard, milk, eggs, cheese, and meat. Make and eat foods associated with New Orleans and Mardi Gras, such as king cake.
Listen to some musical artists associated with Mardi Gras, New Orleans, or Louisiana, such as Louis Armstrong, Clifton Chenier, Professor Longhair, Dr. John, Jelly Roll Morton, and Allen Toussaint; listen to some of the most popular Mardi Gras songs; and learn more about the music associated with Mardi Gras.
Host a Mardi Gras party.
Read a book about Mardi Gras.
Sponsor
This event does not currently have a sponsor. If you'd like to increase visibility for this event while gaining exposure for yourself or your brand, you can
learn more here
!
Something Wrong or Missing?
We would love to hear from you! Please contact us using
this form
.
Observation Notifications
Would you like to be notified before the next observation?
Sign up here
to be told when notifications are available! You may also add this event directly to your calendar with
this link
.