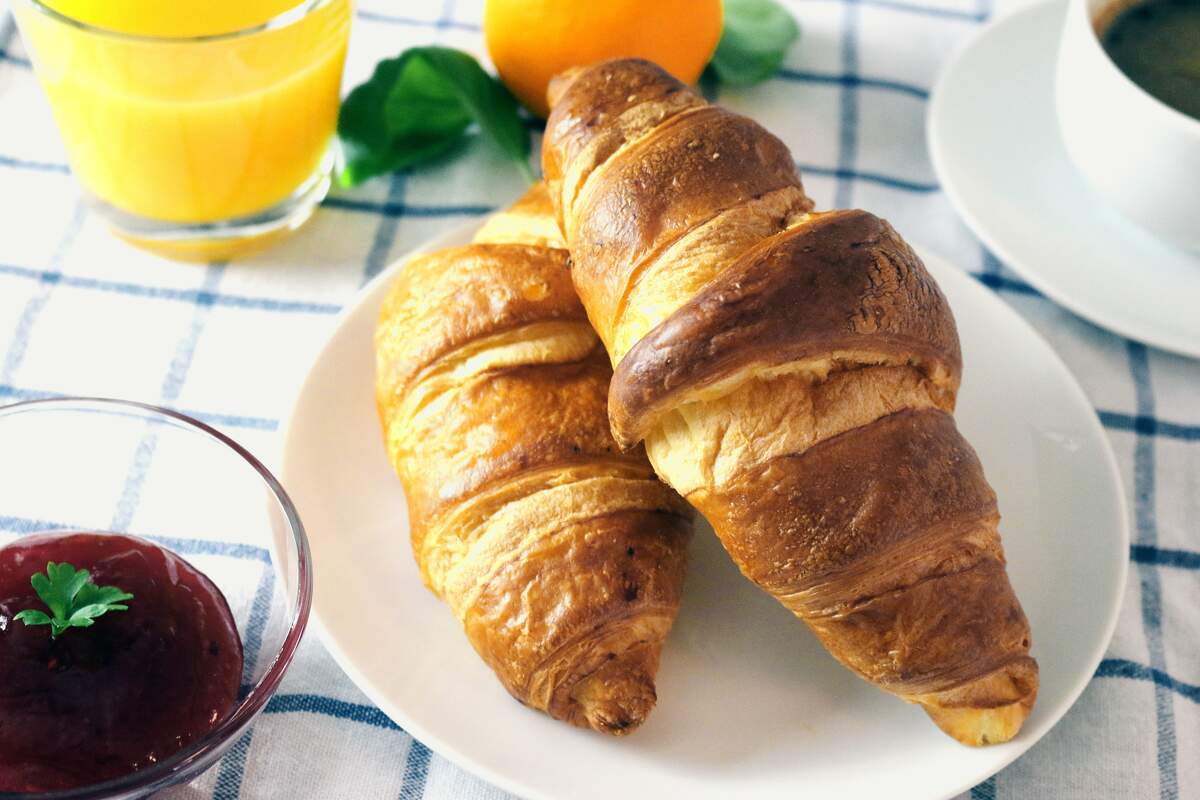 National Croissant Day
Today we celebrate a crescent-shaped pastry with a flaky crust, the croissant! Usually made with sugar, salt, flour, milk, eggs, and butter, croissants originated in Vienna, Austria. There are different variations of them, and they can be found all around the world.
Their precursor was the kipferl, a crescent-shaped roll. Kipferls can be plain or have nuts or other fillings, and are made with lots of butter and lard. They are not as flaky as croissants, having a softer and denser dough. They date back to the thirteenth century, when they were eaten as sweets. By the mid-sixteenth century, they became a breakfast food. During the seventeenth century, puff pastry, the dough that would later be used in croissants, began being used in pastry recipes.
The history of croissants is steeped in legend. One legend says that croissants were first made in Buda, the ancient capital of Hungary that is now the western part of Budapest, to celebrate the victory of the Franks over the Umayyads at the Battle of Tours—which happened back in the eighth century. The shape was said to represent the crescent moon of Islam.
A second legend says that croissants were made to celebrate the victory of Christian forces over the Ottoman Empire in 1683. The Ottomans had laid siege to Vienna, Austria, and the legend says that when the Ottomans were unsuccessful in entering the city, they attempted to dig tunnels underneath it. Apparently, a baker or bakers, who worked in underground storerooms, heard sounds of digging and alerted the army. After the battle, they were given thanks, and they baked bread in the shape of a crescent moon, the Ottoman Empire's symbol. The story says that croissants then went on to become a popular breakfast food in Vienna. Some believe this moment marked the start of the kipferl, not the croissant, but the kipferl had long been in existence at this point. It is mentioned in a poem from 1227, as a treat that Viennese bakers brought to Duke Leopold.
A third legend says that Marie Antoinette, the Austrian princess who married French king Louis XVI, loved kipferls and introduced them to the high society of France, calling them croissants. This story says that bakers went on to perfect them, giving us the croissants of today.
The first real evidence of croissants as we know them today can be attributed to August Zang, who opened a pastry shop called Boulangerie Viennoise in Paris, in 1838, the first Viennese bakery in the city. In it he had many treats and baked goods from Vienna, including kipferl. Around 1850, he began making them with puffed pastry, a flakier dough than what was used in other sweets. People began calling them croissants because they were shaped like crescents. Afterwards, croissants were sold in other Viennese bakeries in France, and in the more affluent areas of Paris. Within a few decades, croissants became a staple breakfast food in France.
Sylvain Claudius Goy wrote a croissant recipe in 1915, on which modern recipes are based. It used yeast, which made the croissants different than other puff pastries of the time. Croissants were mainly made by French bakers throughout the first half of the twentieth century, but after World War II their presence spread all over the world. Flash freezing gave them a longer shelf life, although fresh, handmade croissants are still favored by most.
Croissants became very popular in the 1970s and '80s. They were filled with various sweet and savory ingredients, and were also used to make sandwiches. In particular, fast food restaurants began using them to make breakfast sandwiches. In 1981, Sarah Lee began selling frozen croissants in the United States.
There are more recent variations of croissants. Cronuts can be found at Manhattan's Dominique Ansel Bakery, and The City Bakery is popular for "pretzel croissants." Today, many countries, including France, the United States, Austria, Poland, Argentina, and Poland, have their own variants of croissants. On National Croissant Day, croissants are celebrated no matter what type they are or where they come from.
How to Observe National Croissant Day
Celebrate the day by eating croissants. Perhaps you could make some as well. There are many recipes for plain croissants and for croissant sandwiches you could try. If you don't feel like baking, maybe you live nearby a place that has some of the best croissants in the country. You could also read about the history of croissants in August Zang and the French Croissant.
Sponsor
This event does not currently have a sponsor. If you'd like to increase visibility for this event while gaining exposure for yourself or your brand, you can
learn more here
!
Something Wrong or Missing?
We would love to hear from you! Please contact us using
this form
.
Observation Notifications
Would you like to be notified before the next observation?
Sign up here
to be told when notifications are available! You may also add this event directly to your calendar with
this link
.