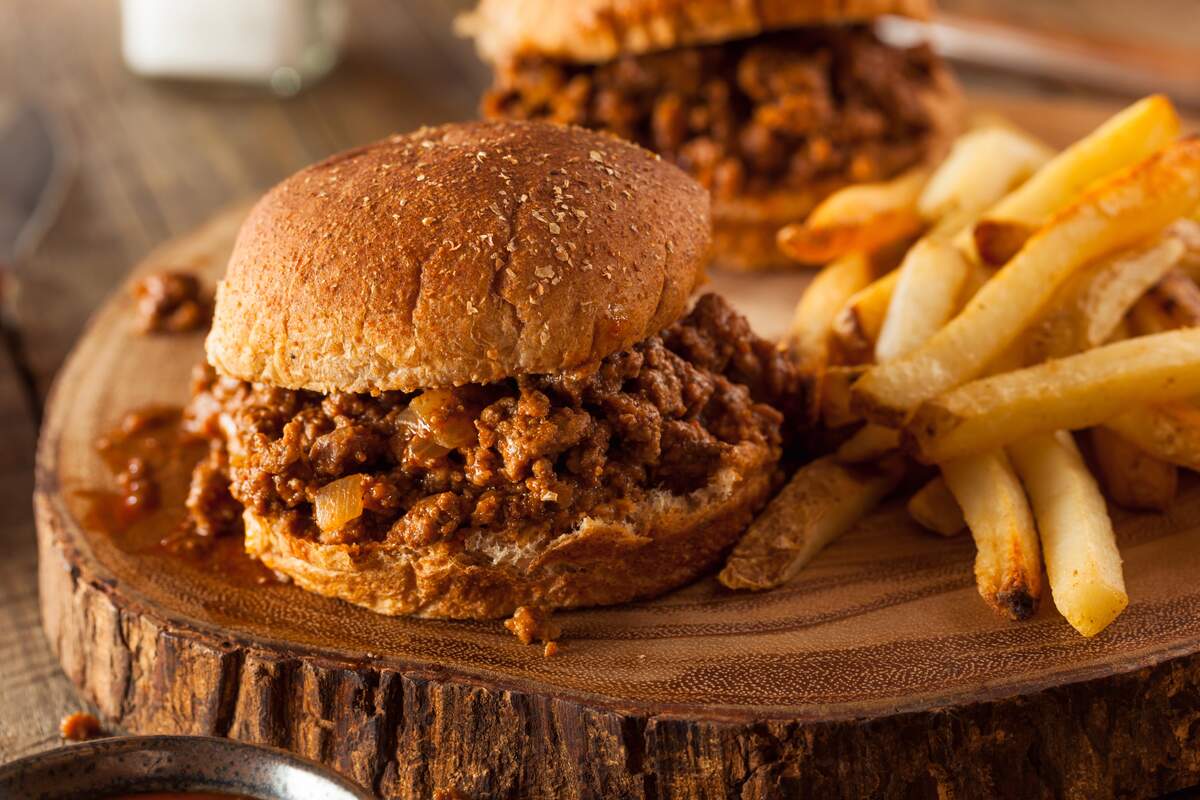 National Sloppy Joe Day
"Have some more Sloppy Joes. I made 'em extra sloppy for yous. I know how yous kids like 'em sloppy." So says the lunch lady in Billy Madison, as she slops some more Sloppy Joes down on the students' plates. Like in the movie, the contents of these sloppy sandwiches often drip off of buns or off the side of plates, but that hasn't stopped from endearing them to the public. Popular in school cafeterias, at birthday parties and barbecues, and in home kitchens because they are a quick and easy meal, Sloppy Joes are now considered to be an iconic American sandwich, just like the hamburger or hot dog. We celebrate them today, on National Sloppy Joe Day!
Ground beef mixed with tomato sauce is the main component of the Sloppy Joe. Onions are usually present in the mix, seasons are added, and it is sweetened with the likes of brown sugar, maple sugar, or cola, and served in a hamburger bun. There are a number of variations. Chicken, pork, turkey, or a vegan substitute can be used instead of beef. Ketchup can be used instead of tomato sauce. Other vegetables, such as green peppers, can be added. Worcestershire sauce is commonly used, and the sandwiches sometimes are spiced up with Tabasco sauce, mustard, or pepper. Seasonings and flavors sometimes vary by location—the sandwiches tend to be sweeter in the North, and have more of a barbecue flavor in the South. The number of other names the sandwich has been given besides Sloppy Joe is almost unmatched. Some of the most used are Spanish hamburger, Manwich, barbecue, dynamite (a variation served on a hoagie sandwich roll with peppers in the sauce), Sloppy Jane (with ground turkey instead of beef), yum yum, slush burger, steamer, and wimpy.
The provenance of the Sloppy Joe cannot be stated with all certainty, but the sandwich probably was created in the United States in the early 1930s. There are three main origin stories that are associated with the Sloppy Joe: one takes place in Havana, Cuba, and the other two are in the United States.
José Abeal y Otero, a bar owner in Havana, was a Spaniard who had previously worked in New Orleans and Miami and whose American friends called him Joe. He opened his bar in 1918, and during Prohibition it became a favorite destination of Americans, including Ernest Hemingway, who first visited Cuba in 1928. The establishment was known for being quite messy, so Joe got the name Sloppy Joe. Eventually, the bar was named Sloppy Joe's Bar. It sold cocktails and cigars, as well as sandwiches. There is some indication that Joe may have served a loose meat sandwich similar to the ground beef Sloppy Joe, but this hasn't been substantiated.
The Sloppy Joe story makes its way to America by way of Hemingway. A bar owner in Key West, Florida, named Joe Russell, was a friend of Hemingway: he was a fishing buddy and became the template for a character in Hemingway's book To Have and Have Not. Opened on December 5, 1933—the day Prohibition ended—the bar was originally called the Blind Pig, and then became the Silver Slipper. According to some sources, Hemingway got the bar to make its own version of the sandwich he had encountered at the Havana bar, and to name it the Sloppy Joe. Then, on account of Hemingway's suggestion, the bar changed its name to Sloppy Joe's Bar. They still serve Sloppy Joes today and claim to have created the sandwich by Americanizing the loose meat sandwich that was served in Havana.
However, the third story related to the provenance of the Sloppy Joe is the most likely of the three. Loose meat sandwiches are like a burger without the patty—they have ground beef but not the sauce, and are usually topped with pickle chips and onions, as well as with ketchup and mustard. They date back at least to 1924 when they were served at a bar in Sioux City, Iowa, and called tavern sandwiches. A decade later, the bar was given the name Ye Olde Tavern in honor of the sandwiches. The loose meat sandwiches were not only made there but caught on in the surrounding area. According to some accounts, a cook named Joe who either worked at Ye Olde Tavern or another nearby establishment created the Sloppy Joe when he added tomato sauce to a tavern sandwich.
Regardless of where it got its start, the Sloppy Joe continued to increase in popularity in the decades following its creation. By the end of the 1940s, it was appearing in cookbooks, and it received a real boost in 1969 when Hunt's introduced Manwich, a canned tomato-based sauce to be added to cooked ground beef. The popularity of the sandwich continued to climb in the 1970s. Nowadays, it is considered to be an American staple, and we celebrate it today, on National Sloppy Joe Day.
How to Observe National Sloppy Joe Day
Celebrate by eating Sloppy Joes! You could make your own or find a restaurant that serves them. Some restaurants known for their Sloppy Joes that you could stop at are Zaharakos and The Fabulous Kegs Drive In. Keep your eyes peeled for deals, as some restaurants have participated in the day in the past. You could also stop at Sloppy Joe's Bar in Havana, Sloppy Joe's in Key West, or the spot where the Ye Olde Tavern was located.
Sponsor
This event does not currently have a sponsor. If you'd like to increase visibility for this event while gaining exposure for yourself or your brand, you can
learn more here
!
Something Wrong or Missing?
We would love to hear from you! Please contact us using
this form
.
Observation Notifications
Would you like to be notified before the next observation?
Sign up here
to be told when notifications are available! You may also add this event directly to your calendar with
this link
.