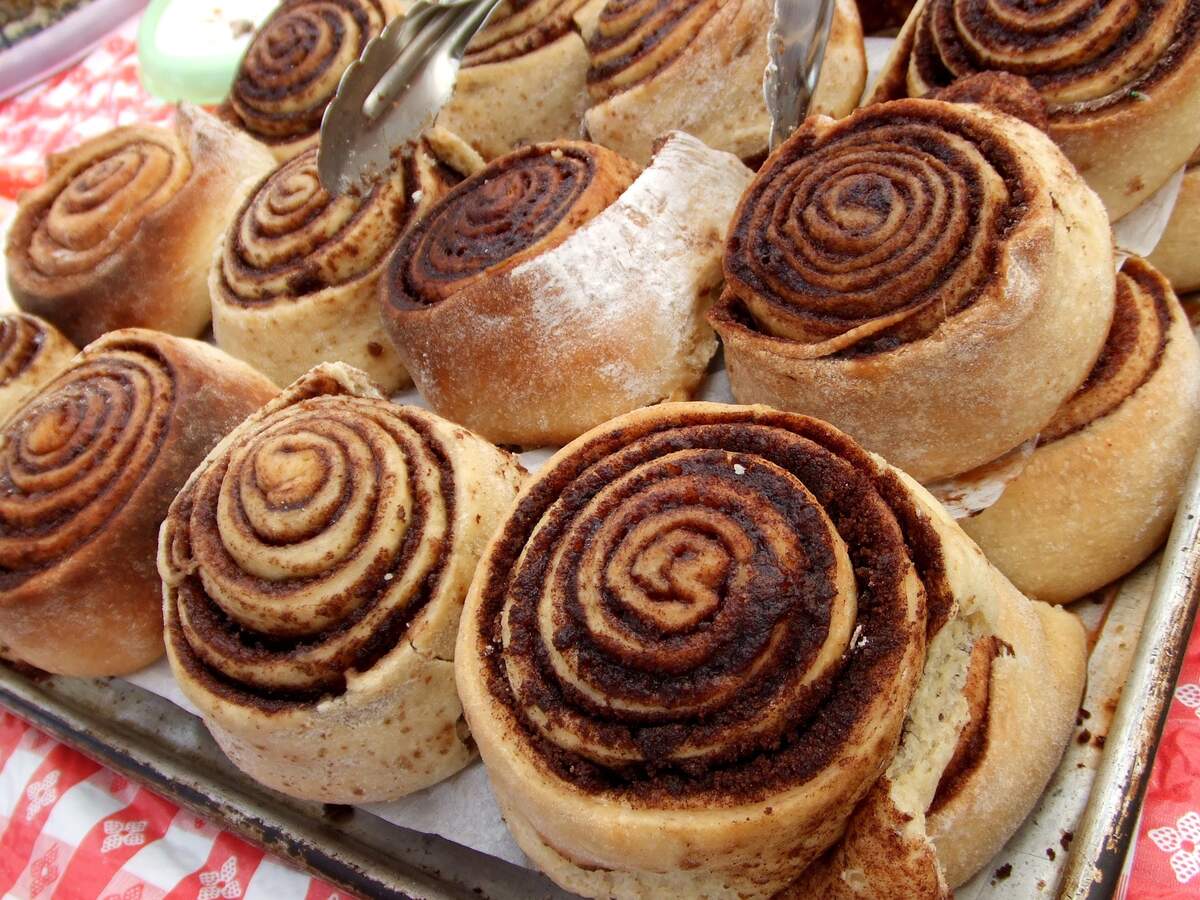 National Pastry Day
Observed since the mid-1990s, and presumably started by CDKitchen, National Pastry Day celebrates pastry doughs and all the baked pastries that can be made with them. The uncooked pastry mixture, known as paste or pastry dough, consists of flour, water, and shortening—which is made up of solid fats—and sometimes also sugar, milk, baking powder, and eggs. It may be sweet or savory and has more fat and less water than bread dough, which makes it more crumbly and flaky after cooking than its counterpart. Cooked pastry dough is light, airy, and fatty, but strong enough to hold a filling. Some cooked pastry doughs are phyllo (filo) pastry, puff pastry, flaky pastry, yeasted pastry, short pastry, short sweet pastry, suet pastry, choux pastry, and hot water crust pastry. Some common examples of pastries these pastry doughs are used to make are tarts, pies, pasties, croissants, quiches, Danishes, and baklavas.
The pastry was first made by the ancient Egyptians, who wrapped a paste formed of flour and water around meat, to soak up its juices while it cooked. The ancient Greeks, Romans, and Phoenicans made pastry similar to phyllo. The pastry that developed in the Middle East was brought to Europe by Muslims in the seventh century. It wasn't until the mid-sixteenth century that pastries became more widespread and recipes began appearing in Europe. Flaky and puff pastries became common there in the seventeenth century.
Today's pastry doughs provide a casing and enhance the flavors of fillings. Phyllo pastry is pressed, stretched, and rolled into sheets as thin as tissue paper. Delicate and flaky, it is usually brushed with oil or butter before being baked. Various recipes use it in different ways. For example, it may be cut into sheets and layered, or it may be formed into rolls. Phyllo can be filled with sweet or savory foods. Some examples of dishes made with phyllo are strudel from Austria, baklava from the Mediterranean, spanakopita from Greece, borek from the Middle East, and spring rolls from China.
Puff pastry is flaky, light, and tender. To make it, flour, salt, a small amount of fat, and water are mixed together. It is a form of laminated dough, a dough with many layers that are divided by fat. Puff pastry is layered with fat, usually butter, and is repeatedly folded and rolled. When being baked, the heat turns the water to steam and puffs up the pastry, giving it flaky layers. It is used to make pies, vol-au-vents, pasties, and desserts. Flaky pastry is a quick version of puff pastry that requires less rolling and folding. A yeasted pastry is between a puff pastry and bread. Yeast is added and it is layered with fat. Light and flaky, it has a crisp outside and a tender inside. Danishes and croissants use yeasted pastry.
Short pastry, also known as shortcrust pastry, is the simplest and most common pastry. Soft and tender, it is made with flour, fat, salt, and water, and is used to make tarts, quiches, and savory pies. It can be used to make short sweet pastry and suet pastry. Short sweet pastry, also known as sweetcrust pastry, is a short pastry with added sugar. Eggs are also sometimes used in place of water. Short sweet pastry is used for fruit pies, mince pies, and other desserts. Suet pastry is used as a cover on stews.
Choux pastry is a French specialty. This light and airy pastry is made by boiling butter with water or milk, adding flour, beating it with eggs, and putting it through a pastry bag onto a baking tray. Its high water content causes it to expand and hollow out, and after baking, it is customarily cut open and filled with cream, which may be flavored. It is also often iced with chocolate. Choux is used to make cream buns, profiteroles, and chocolate eclairs. Choux pastries can also be appetizers, and be filled with ingredients like cheese, chicken, or tuna.
One other type of pastry is hot water crust pastry, which is used to make savory pies. It is made with lard, flour, and water. The fat is melted in boiling water, and this combination is mixed with flour. It is then shaped by hand, filled, and covered with a crust. It has the look of a hand-made pie, which, in essence, it is. On National Pastry Day, we enjoy these many pastry doughs and the sweet and savory pastries that can be made with them!
How to Observe National Pastry Day
Spend the day eating pastries that are made with different types of pastry dough. You could pick up some pastries at a local bakery or maybe at one of the best bakeries in the United States or the world. The most appropriate way to spend the day may be to make your own pastry doughs and pastries. Here are some recipes for each:
Pastry doughs:
Pastries:
Sponsor
This event does not currently have a sponsor. If you'd like to increase visibility for this event while gaining exposure for yourself or your brand, you can
learn more here
!
Something Wrong or Missing?
We would love to hear from you! Please contact us using
this form
.
Observation Notifications
Would you like to be notified before the next observation?
Sign up here
to be told when notifications are available! You may also add this event directly to your calendar with
this link
.